First Come First Served! Massive Savings, Huge Selection!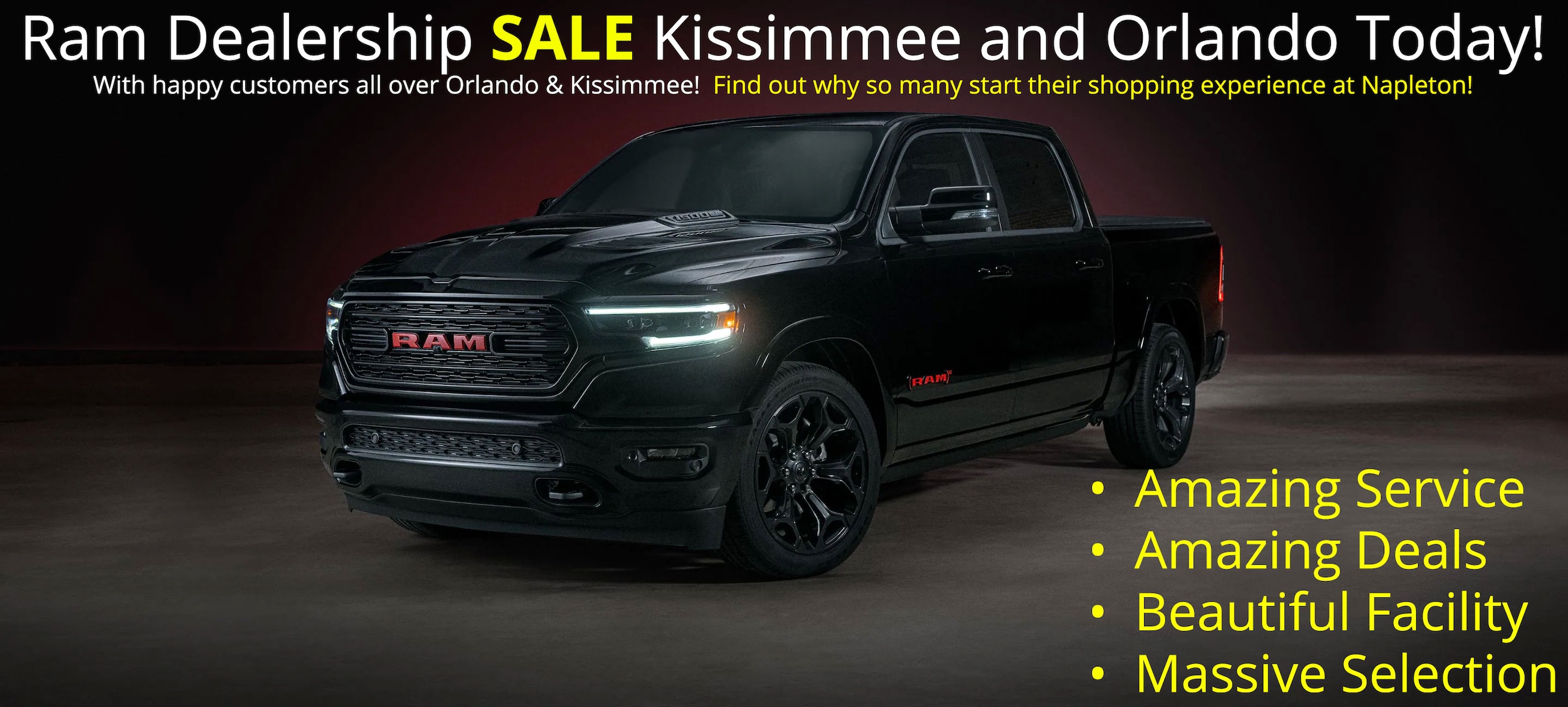 Massive Ram Truck Clearance!

We are stocked on Ram Trucks!! Save Now!



There is no better time to save on a new Truck!

IT's Time To Save On Ram Trucks in Kissimmee & Orlando!

Are you searching for a great deal on a Ram truck?  This is the month to do it!  Ram Truck month is an amazing time to purchase a new Ram truck, but at Napleton Orlando Ram trucks are priced like Ram truck month every month!  This month specifically is a great month to save.  We Have plenty of new Ram trucks that must go!!  Start saving on Ram trucks today at Napleton in Kissimmee, FL!

If you're serious about getting your hands on an amazing deal, our Ram dealership is near you and loaded with inventory and deals on Ram Trucks! For a limited time, we are offering extraordinary RAM Truck finance and lease deals.  But you must hurry! These specials won't be here for long. With our huge selection and amazing deals the Ram truck you have always wanted may be here now but it wont be for long!  Our Ram dealership has tons of customers walking through the doors every day!  If you are not looking for a new Ram truck, we do get many Ram trucks traded in for you to choose from.

If you are searching for your next 4x4 or 4x2 pickup truck, a Ram truck test drive is a must! If you currently drive a Ford F150 or Chevy Silverado, take a test drive of the new Ram 1500 or Ram 2500 and find out why so many Kissimmee Ram dealership customers make the switch.  The new Ram trucks are amazing in many different ways.  Your next new Ram will be fuel efficient, powerful and comfortable.  This is a truck that can handle any job in Orlando! 

 Getting an amazing truck like this at sale prices like our current website pricing, you cant afford to pass this deal up!  Driving a Ram truck around Orlando is an experience that anybody would enjoy!  We challenge you to come in and test drive a new Ram truck at our Kissimmee location!  These Ram trucks are built to last, but if you have any issues our Ram Service department will be glad to help!

If you're looking for a better time to buy a new truck for sale in Orlando, this is the  best time. With such a huge selection and the need to get rid of our 2022 inventory, you wont want to wait! If you have any questions, please feel free to fill out the form below and our Ram truck specialists would love to help!

If you want to learn more about the national RAM Truck month incentives,  keep reading:

  


Ram Truck month is in March but, the deals don't stop there.  If you are shopping for a truck, our Ram truck deals are impossible to pass up!  Currently our 2022 Ram trucks Must go!





Local  RAM Dealer Discounts




Get a discounted rate on a new RAM 1500, 2500, 3500, 4500, 5500, or ProMaster. Napleton Orlando has new 2022 Ram trucks that must go in order to make room for the new 2022 Ram trucks that have already started arriving!!




Find Your Dodge RAM Pickup Truck Below
Make An Inquiry
* Indicates a required field