Fill out the form below for:
Make an appointment to stop by
Schedule a test drive

Risk Free Quote
Get current offers and savings
Ram 1500 Quote
All-New Ram 1500 in Orlando Sets The Benchmark For Pickup Trucks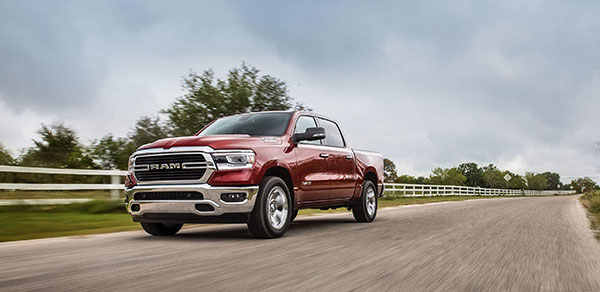 Since the beginning, the Ram 1500 full-size pickup truck has earned rave reviews for its stunning power, capability, style, technology, and luxury. Today, the new fourth-generation model is no exception. From the fundamental values of Tradesman to the craftmanship of Limited, the new Ram 1500 exceeds standards.
At first glance, the Ram 1500 stands out with a robust and resilient frame, wrapped in high-strength steel. Add in the steel cargo bed and the 18-inch wheels, and the Ram 1500 commands attention everywhere.
Tucked underneath the hood rests a 3.6L V6 Engine with 305 horsepower and 269 lb.-ft. of torque. Additionally, the Ram 1500 can tow up to 7,730 lbs. with an eight-speed automatic transmission. Of course, 1500 Ram trucks also come available with a 395 horsepower 5.7L V8 Hemi with 410 lb.ft. of torque. Additional engines include a 260 horsepower 3.0L V6 Turbo Diesel Engine with 480 lb.-ft. of torque.
Inside, the Ram 1500 can hold up to six-passengers. It also comes available with the largest-in-class 12-inch touch-screen. Along with it, drivers can expect to find Hands-Free Bluetooth Technology, Air Conditioning, and a rearview camera display. And that's just the beginning! There's a lot more where all of this comes from. Experience the complete Ram 1500 package at 1460 E Osceola Pkwy Kissimmee, FL 34744-1602.
We look forward to serving everyone in Orlando, Kissimmee, Oak Ridge, Pine Hills, Apopka, and surrounding areas.
If you would like to save time and money, fill out the form on this page. Once you complete the form, you will receive a free test drive and an exclusive Ram 1500 price quote. And don't worry. There are no risks or obligations. Just an opportunity to find the best Central Florida Ram truck deal.

Click Below to View RAM 1500 Inventory by Model-Trim
With Multiple Trim Levels To Choose From. There's a Ram 1500 Designed With You In Mind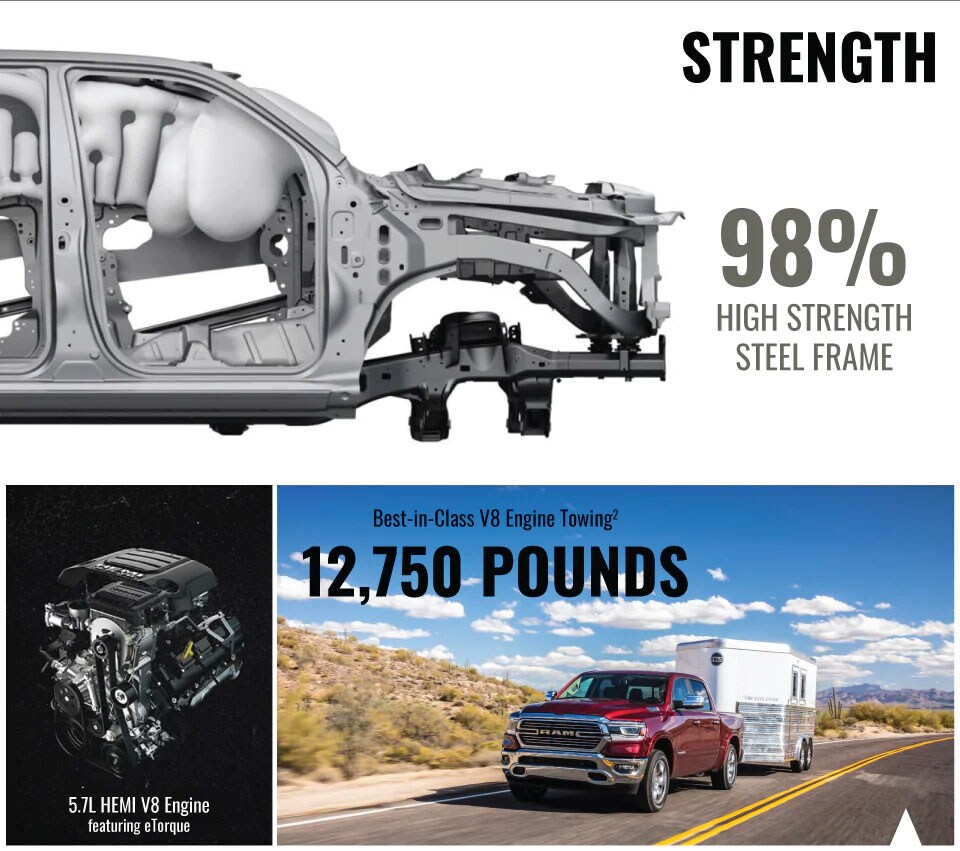 For superior RAM 1500 performance, opt for the 5.8L HEMI V8 with e-Torque. It offers a maximum towing capacity of 12,750 lbs. and an impressive 2,300 lb. payload. Add in the optional Active Level Four Corner Air Suspension with automatic load, you can haul just about anything with confidence. But don't just take our word for it. Prepare to take the new Dodge RAM 1500 for a test drive our local Orlando Ram dealer near you.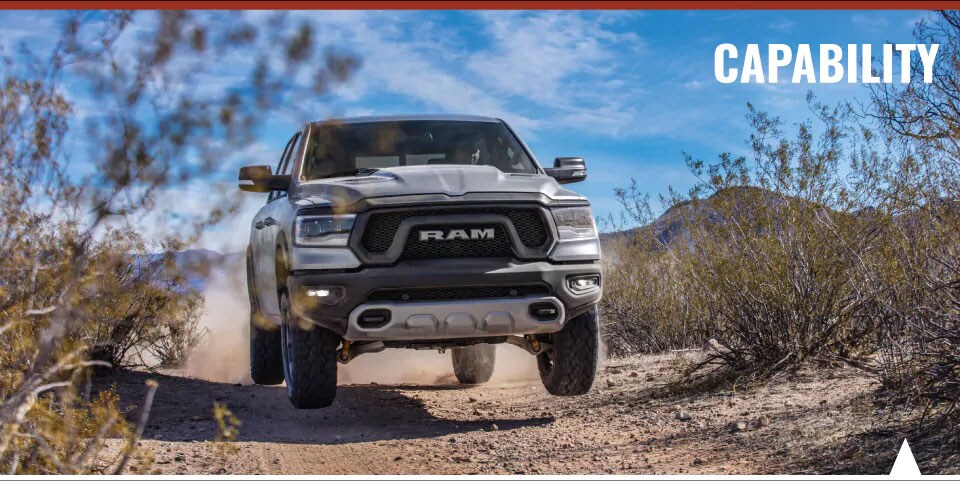 When the going gets tough, the tough get going. And there's nothing quite like the Dodge RAM Truck 4x4 off-road package available for all RAM 1500 models (and standard on the Rebel). Not to mention, the 395 horsepower  RAM 1500 5.7L V8 is perfectly equipped to tackle the toughest jobs. For even more control off-road opt for an Active-Level Four-Corner Air Suspension.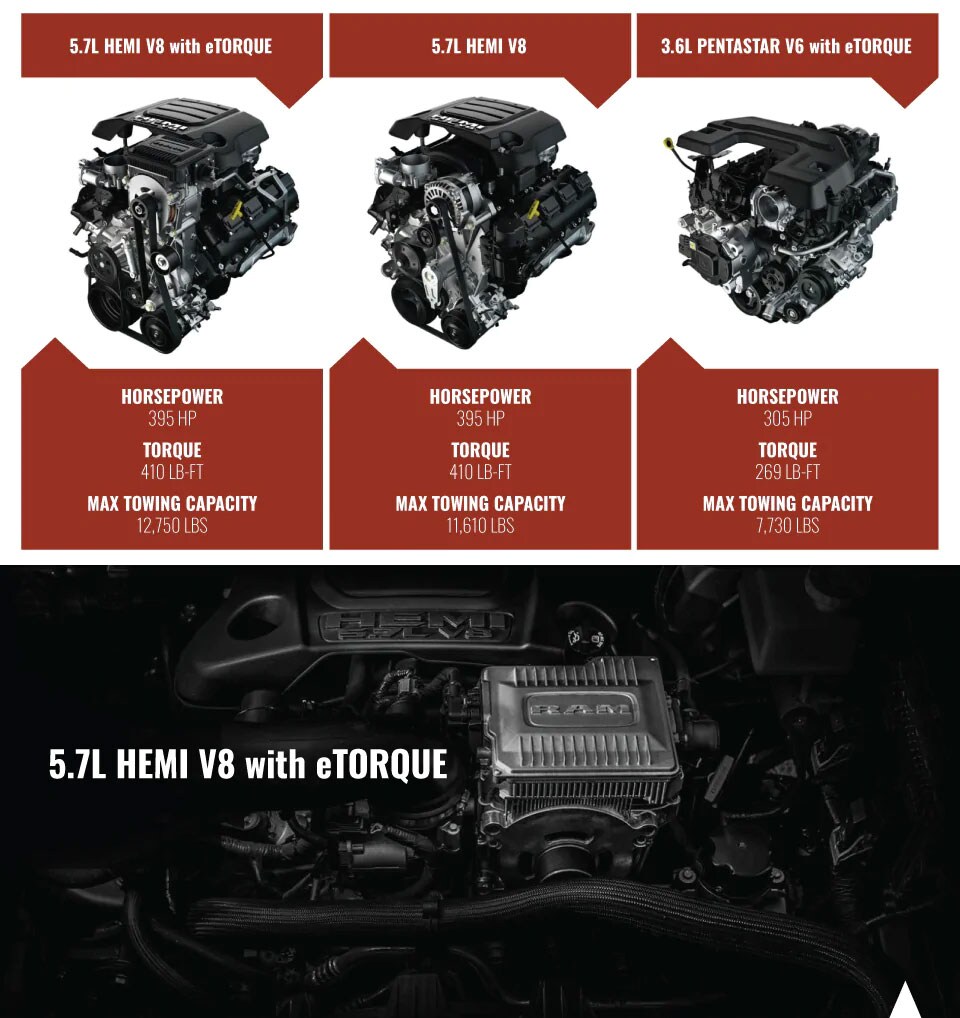 The available 5.7L HEMI® V8 engine with eTorque Mild Hybrid System blends performance-enhancing  and fuel-saving technologies with the addition of an available extra 130 lb.-ft. of torque to boost towing, payload, efficiency, and drivability.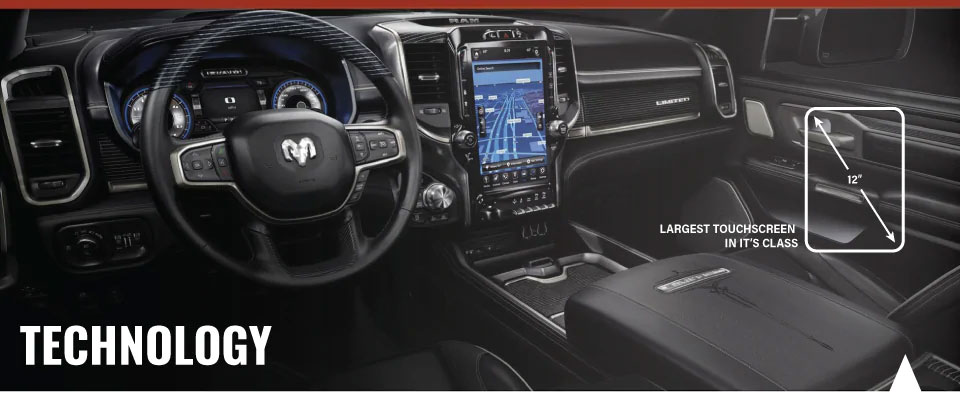 Technology reigns supreme in the well-designed RAM 1500 interior cabin that features the largest-in-class 12-inch touchscreen, wireless device connectivity, and a built in noise cancellation system. You'll also enjoy the available power heated leather seats and steering wheel. The 900-watt Harman Karon Premium 19-speaker Audio System makes it easy for you to listen all of your favorite podcasts, broadcasts, and music.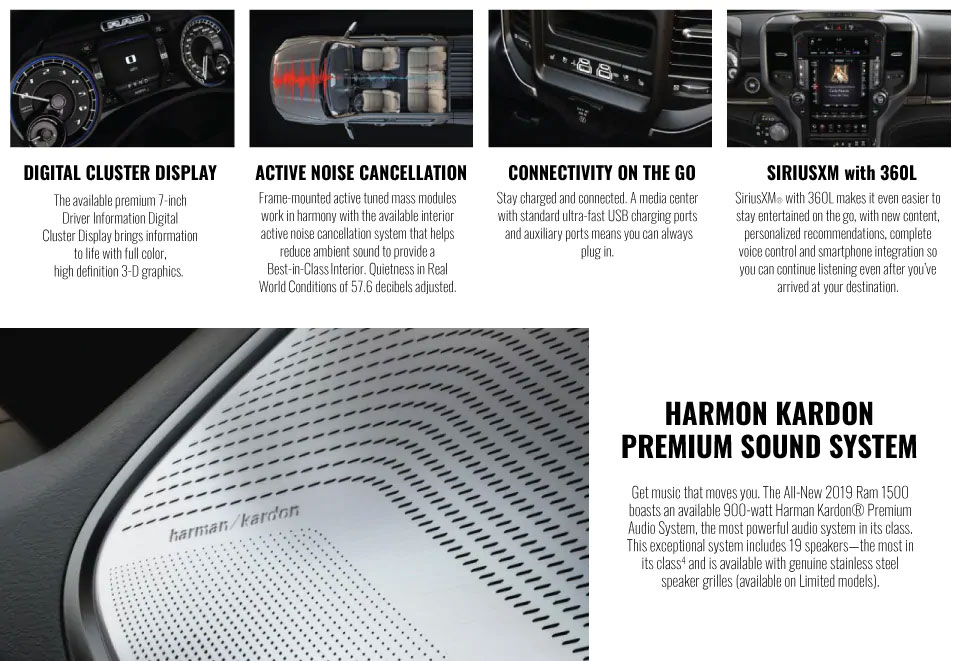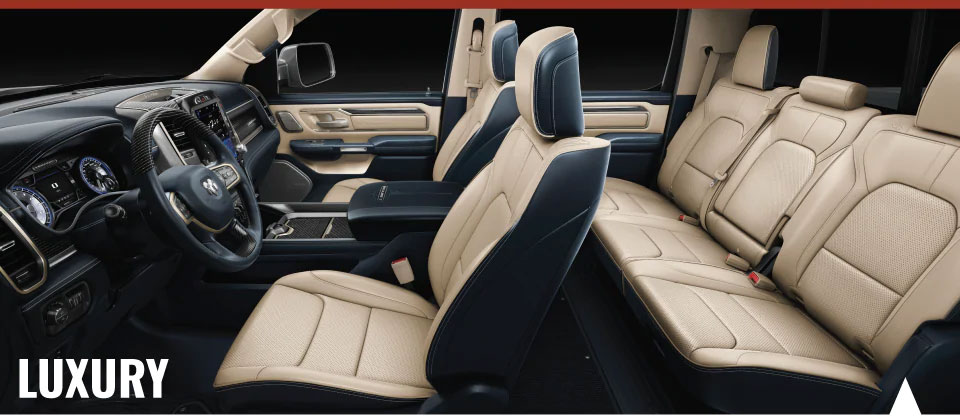 The intuitively designed RAM 1500 interior offers excellent  room and comfort. It also offers a wealth of amenities including dual-zone automatic temperature control, under seat storage, a rear seat fold-down center console, and a reclining rear seat. Each model also comes available with its own unique options for colors, premium materials, and interior detailing. Customize your cabin as you see fit.

Orlando RAM 1500 Pickup Trucks Available For Test Drive

Now that you have read about the brand new RAM 1500 in Orlando, it's time to take it for a spin. Contact your local Orlando Dodge RAM dealer and schedule a free test drive. We are located just minutes away from Kissimmee, Oak Ridge, Apopka, and Pine Hills. You'll find that we offer the finest selection of Dodge RAM 1500 full-size pickup trucks. Plus we also offer incredible RAM 1500 deals. Visit us today at
1460 E Osceola Pkwy Kissimmee, FL 34744-1602.
If you don't want to wait, fill out the free online form on this page, and schedule a free test drive. Once complete the form you also receive an exclusive Dodge RAM 1500 price quote. And don't worry. There are no risks or obligations. Just an opportunity to find the best truck for you.
Make An Appointment >>
Get The Best Deal On a RAM 1500 Pick Up Truck For Sale In  Orlando, FL
If you've been looking for a great deal on RAM 1500 for sale in  Orlando, we have great news! Napleton Kissimmee Chrysler Dodge Jeep RAM dealership  is offering the  best  savings deals on the best trucks to Orlando, Kissimmee, Oak Ridge, Pine Hills, Apopka and surrounding areas.
If you hurry, you can be one of the  few people to grab an all new RAM 1500 at an incredible rate. But don't wait! The RAM 1500 Truck is moving fast. And we don't want you to miss  it.

Act now! Fill out the risk-free online form and instantly get an amazing deal on an all new RAM 1500 pick up truck. Find out more about the RAM 1500 pick up truck below.

Haul It All With A RAM 1500 Pick Truck
Make no mistake. The RAM 1500 is the toughest pick up truck ever built. It's a fully loaded toolbox that comes standard with a 67.2 inch flat bed, a rock solid muscle chiseled front, and  easy 2-door access. Ready for work, the RAM 1500 truck dressed with 17-inch steel reinforced wheels, all season tires, and even more ground clearance. From dirt roads,  to city streets, you can always count on the RAM 1500 pick up. Plus the RAM 1500 even offer halogen headlamps,  front bumper sight shields, and and 9-inch extended side mirrors. When you buy a RAM 1500 Pickup Truck you get everything you need finish the job.
The RAM 1500 Works Every Day. Including Weekends
If you want a work truck you can rely on, you get a RAM 1500 Truck. It gives you the best standard horsepower ever put inside of a truck. When you get  a RAM 1500 truck you roaring 3.6L Penstar V6 VVT Engine that dominates the workforce with 305 horsepower and 260 lb-ft of torque. That's enough muscle to haul more than 9,000 pounds, and carry a payload of up to 1500 lbs. Combined with a drive responsive 8-speed automatic transmission, the RAM 1500 truck optimizes performance without compromising efficiency.

If you really want to see what the RAM 1500truck is made of, look inside of it. Under it's chiseled muscle exterior is a daring 50,000 PSI steel frame that powers through the toughest jobs.  Equipped with heavy duty shock absorbers, reliable heavy duty axles, and  a monstrous suspension system, the RAM 1500 performs best under heavy duty loads.

You have to see it to believe. If you're tough enough, Come drive the RAM 1500 at Napleton Kissimmee Chrysler Dodge Jeep RAM dealership in Kissimmee, FL. Schedule a free test drive today.

With Great Power Comes Great Comfort
Also known as the Dodge RAM 1500 Truck is so comfortable you will swear you're right at home on the job. The RAM 1500 Truck offers more comfort thanks to it spacious interior that is filled with padded and and upholstered seating. It even offers more sound deadening insulation, so you can drive comfortable. If that's not enough  you also get a heavy duty 40/20/40 split folding vinyl bench, black vinyl floor covering  a behind the seat storage bin, air conditioning, and a tilt/telescopic steering wheel. Not to mention the RAM 1500 comes standard with a:
Dual USB Ports to keep your mobile device powered up and on the go

Powerful 6-speaker audio system with AM/FM/MP3/Sirius XM  Radio
Auxiliary Input Jacks to listen to all of your favorite music, podcast, and broadcast
RAM Trucks Are Built Stronger To Last Longer
One thing that will never change about the Dodge RAM 1500 or now known as the Ram 1500 is it's toughness. That is why every RAM Truck comes standard with:
High Strength Steel Front and Rear  Crumple zone to withstand the worst of any frontal or rear impact helping the passengers stay safe and secure
Advanced Air Bag System  help reduce the risk of injury in the event of an accident

4-Wheel Anti-lock Braking System  prevent wheel lock up on wet or slippery surfaces
Electronic Stability Control is a sophisticated safety mechanism that helps you stay in control under adverse circumstances
Hill Start Assist provides you with a boost of acceleration whenever climbing up hill

Ready Alert Braking enhances your braking power in the event of an emergency

Sentry Key Theft Deterrent System is a security system that guards your truck when someone attempts to start it with an invalid key

Traction Control  helps you stay in control on wet or slippery surfaces

Remember, if you want to get the best deal on the all new RAM Truck 1500, fill out the free online form above, and visit Napleton Kissimmee Chrysler Dodge Jeep RAM. We only giving way these huge deals for a limited amount of time. Hurry in while you still can. We look forward to helping everyone in Winter Park, Kissimmee, Orlando, Apopka, Gateway, and surrounding areas.

The Dodge Ram trucks that you have known for years have become so popular that they are now their own brand.  Known as the Ram 1500 the Dodge Ram Truck is better than ever with the new Ram brand. Contact one of our Ram specialists above to find out more about these amazing trucks.